Ana Digón

Communicator and Regenerative Event Organiser

Andy Goldring

CEO Permaculture Association (Britain)

Beat Rölli

Biologist, Permaculture Designer, Farmer

Charlie Gray

Ethnobotanist, Food Systems Designer, Seed Steward

Charlotte Kottusch

Research Assistant/VFPC Speaker

Graham Burnett

Positive solutions for regenerative futures

India Hamilton

Regenerative designer and entrepreneur

Iris Kunze

Geographer, expert on intentional communities

Iryna Kazakova

Project coordinator at NGO Permaculture in Ukraine

Jóvenes en Permacultura

Featuring Auba Riera & Eddie Brown

Julie Mathes

Journalist focusing on environmental issues

Jyoti Fernandes

Farmer and land rights activist

La Bolina

Ecological, regenerative and intercultural association

Mark Ridsdill Smith

Container gardener, author and teacher

Matt Swarbrick

Optimist and Tea Maker at Henbant

Matteo Mazzola

Regenerative farmer, consultant and educator

Morag Gamble

Founder, presenter and educator

Murad Alkhufash

Marda Permaculture Farm founder

Pat Mooney

Authority on issues of global governance, corporate concentration, and intellectual property monopoly

Pavlo Ardanov

Researcher and lecturer. Co-founder of NGO Permaculture in Ukraine

PermaMed

Permaculture educators and practitioners

Permayouth Hubs Uganda

Featuring Brenda Nakafeero & Rolande Ansima Casinga

Perrine Hervé-Gruyer

Permaculture and agroecology consultant

Peter Brooks

Spatial researcher

Pippa Chapman

Backyard forest gardener

Precious Phiri

Smallholder farmer, regenerative agriculture practitioner and trainer

Rob Hopkins

Founder of the Transition movement.

Sheila Darmos

Advocate for Regenerative Farming

Stephanie Hafferty

Garden writer, consultant and designer

Steve Charter

Funding Coordinator PAB, iACT Project Lead

Suzy Russell

Supporting and promoting Community Supported Agriculture (CSA) in the UK

Valerie Seitz

Organizing the transformation as a trainer, project developer and designer
Advocate for Regenerative Farming
DAY 4 - FARM SCALE
4 March 2023
16:00 - 19:00 GMT (London)
17:00 - 20:00 CET (Paris)
18:00 - 21:00 EET (Athens)
Day 4 Programme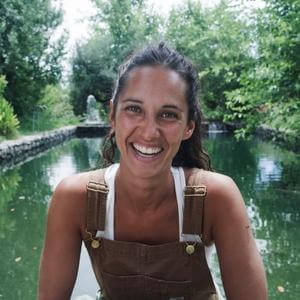 How the food market needs to change to accommodate biodiverse farms in transition
::  consumers  ::  networks  ::  connection  ::
While there is a need to support farmers to transition to regenerative farming practices, there is literally a need for every citizen to understand the relationship between food cultivation and the health of our ecosystem.
Once this connection is understood, it is the base for consumers to be willing to go a step towards their farmer. In reality we need to reconnect, in order to make this work. Consumers need to be more agile in the way they demand food on the market, when and what they demand. It needs to be directly connected to what is grown in their region, or in an ecologically sound and accessible way.
It needs indeed a diverse impact network to accomplish this shift of our agri-food system, and this network needs to include all actors that are essential parts of the agri-food system. Like in our farm we know that all elements are connected, so it is in our food market. If we only connect two elements, the system will still not be functional enough.
More Details
After her Bachelor's degree in Sociology in Germany and spending 20 years there, Sheila moved back to Greece to take over the family business, Silver Leaf, which her father had created to support local organic farmers. Being really troubled by conventional business approaches and the lack of ecological awareness in the local rural area in southern Peloponnese, she found her unique way of running her family business, weaving together Permaculture principles, Frederic Laloux approaches and her sociology background.
At the same time, she founded the Southern Lights non profit organisation which goes many steps beyond the scope of the business, supporting farmers in converting to regenerative farming, creating learning opportunities for young and old on topics of regeneration, while bringing together the Greek regenerative movement in the Regen network she co-initiated. At the same time on her own regenerative agroforestry farm, she is creating an invisible school for young and old to reconnect with nature in an abundant food forest.
Check the detailed programme of the 5 days of the Forum: