Ana Digón

Communicator and Regenerative Event Organiser

Andy Goldring

CEO Permaculture Association (Britain)

Beat Rölli

Biologist, Permaculture Designer, Farmer

Charlie Gray

Ethnobotanist, Food Systems Designer, Seed Steward

Charlotte Kottusch

Research Assistant/VFPC Speaker

Graham Burnett

Positive solutions for regenerative futures

India Hamilton

Regenerative designer and entrepreneur

Iris Kunze

Geographer, expert on intentional communities

Iryna Kazakova

Project coordinator at NGO Permaculture in Ukraine

Jóvenes en Permacultura

Featuring Auba Riera & Eddie Brown

Julie Mathes

Journalist focusing on environmental issues

Jyoti Fernandes

Farmer and land rights activist

La Bolina

Ecological, regenerative and intercultural association

Mark Ridsdill Smith

Container gardener, author and teacher

Matt Swarbrick

Optimist and Tea Maker at Henbant

Matteo Mazzola

Regenerative farmer, consultant and educator

Morag Gamble

Founder, presenter and educator

Murad Alkhufash

Marda Permaculture Farm founder

Pat Mooney

Authority on issues of global governance, corporate concentration, and intellectual property monopoly

Pavlo Ardanov

Researcher and lecturer. Co-founder of NGO Permaculture in Ukraine

PermaMed

Permaculture educators and practitioners

Permayouth Hubs Uganda

Featuring Brenda Nakafeero & Rolande Ansima Casinga

Perrine Hervé-Gruyer

Permaculture and agroecology consultant

Peter Brooks

Spatial researcher

Pippa Chapman

Backyard forest gardener

Precious Phiri

Smallholder farmer, regenerative agriculture practitioner and trainer

Rob Hopkins

Founder of the Transition movement.

Sheila Darmos

Advocate for Regenerative Farming

Stephanie Hafferty

Garden writer, consultant and designer

Steve Charter

Funding Coordinator PAB, iACT Project Lead

Suzy Russell

Supporting and promoting Community Supported Agriculture (CSA) in the UK

Valerie Seitz

Organizing the transformation as a trainer, project developer and designer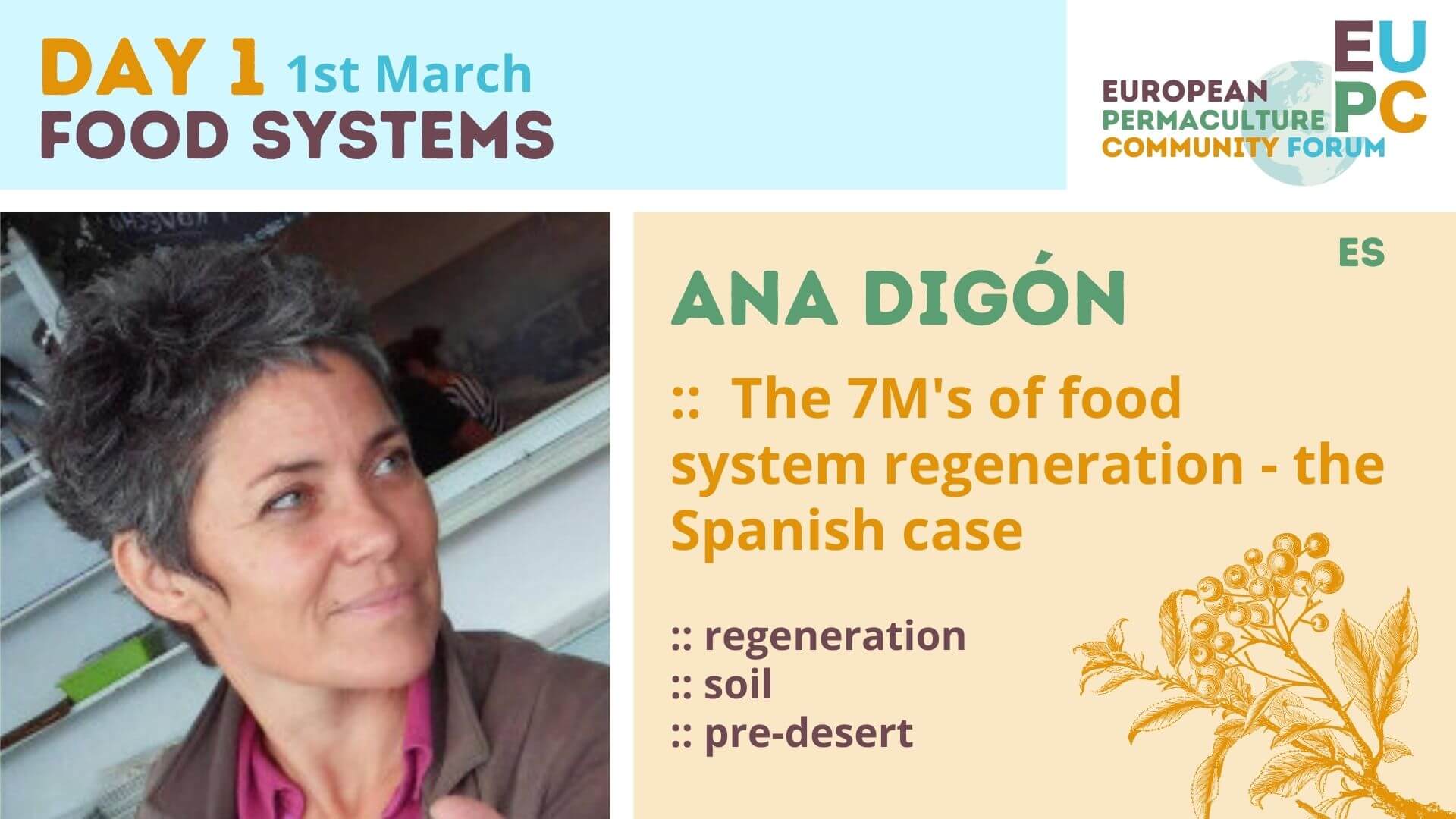 Communicator and Regenerative Event Organiser
DAY 1 - FOOD SYSTEMS
1 March 2023
18:00 - 21:00 GMT (London)
19:00 - 22:00 CET (Paris)
20:00 - 23:00 EET (Athens)
Day 1 Programme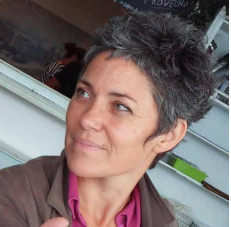 The 7M's of Food System Regeneration - The Spanish Case
::  regeneration  ::  soil  ::  pre-desert  ::
How does the soil work? Can we affect its health? Can regenerative practices truly revitalize soils & farms, economy & society? And how is all that taking shape in Iberia, Europe's food basket and also one of its most castigated, pre-desertic regions?
More Details
Ana Digón is a freelance socio-political scientist, professional translator & interpreter, meeting facilitator, organizer of educational and social events, writer for various publications and a commited communicator in areas regarding the Soil, the Soul and Society.
Born in 1976, with a BA (Hons) in Modern Languages and European Studies from the University of the West of England, where she specialized in simultaneous and consecutive interpreting (Eng/Sp/Fr), Ana has worked since then in various sectors (law, project management, brand design, child and adult education, event organisation...) while also training in permaculture, regenerative farming, consciousness work and group facilitation.
Of Spanish-British origin, and a tireless traveller, her work as interpreter and translator has allowed her to meet, work with and learn from some of the greatest teachers and activists of our time, particularly in the area of regenerative agricultural and food systems, becoming also a co-organizer of training tours for some of these visionary leaders, as well as co-founder and coordinator for the last decade of the Regenerative Agriculture Association in Iberia (Spain and Portugal).
Thoroughly inspired also by the teachings and philosophy of different facilitators from around the world, and appreciating the joys of effectively facilitated meetings and processes, Ana applies and is continuously training in various group facilitation and personal development methodologies, including Deep Ecology, Process Work, Dragon Dreaming, Sociocracy, Visual Facilitation and others. Ana works to apply and spread such tools, motivated by the firm understanding that regenerating our soils and our relationships will build bridges towards the future in these times of climate, food, economic and social challenges.
Ana feels above all part of the huge and amazing web of life that we are lucky to share, and is passionate about transmitting that connection, as well as specific practical tools so we may co-create the world we want for our generation and future ones.
Check the detailed programme of the 5 days of the Forum: