Ana Digón

Communicator and Regenerative Event Organiser

Andy Goldring

CEO Permaculture Association (Britain)

Beat Rölli

Biologist, Permaculture Designer, Farmer

Charlie Gray

Ethnobotanist, Food Systems Designer, Seed Steward

Charlotte Kottusch

Research Assistant/VFPC Speaker

Graham Burnett

Positive solutions for regenerative futures

India Hamilton

Regenerative designer and entrepreneur

Iris Kunze

Geographer, expert on intentional communities

Iryna Kazakova

Project coordinator at NGO Permaculture in Ukraine

Jóvenes en Permacultura

Featuring Auba Riera & Eddie Brown

Julie Mathes

Journalist focusing on environmental issues

Jyoti Fernandes

Farmer and land rights activist

La Bolina

Ecological, regenerative and intercultural association

Mark Ridsdill Smith

Container gardener, author and teacher

Matt Swarbrick

Optimist and Tea Maker at Henbant

Matteo Mazzola

Regenerative farmer, consultant and educator

Morag Gamble

Founder, presenter and educator

Murad Alkhufash

Marda Permaculture Farm founder

Pat Mooney

Authority on issues of global governance, corporate concentration, and intellectual property monopoly

Pavlo Ardanov

Researcher and lecturer. Co-founder of NGO Permaculture in Ukraine

PermaMed

Permaculture educators and practitioners

Permayouth Hubs Uganda

Featuring Brenda Nakafeero & Rolande Ansima Casinga

Perrine Hervé-Gruyer

Permaculture and agroecology consultant

Peter Brooks

Spatial researcher

Pippa Chapman

Backyard forest gardener

Precious Phiri

Smallholder farmer, regenerative agriculture practitioner and trainer

Rob Hopkins

Founder of the Transition movement.

Sheila Darmos

Advocate for Regenerative Farming

Stephanie Hafferty

Garden writer, consultant and designer

Steve Charter

Funding Coordinator PAB, iACT Project Lead

Suzy Russell

Supporting and promoting Community Supported Agriculture (CSA) in the UK

Valerie Seitz

Organizing the transformation as a trainer, project developer and designer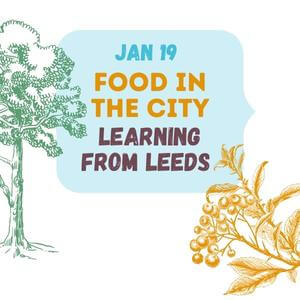 More Details
Cities and urban areas are complex and provide a home to 72% of Europe's population. If we want a regenerative food system we need to make city food systems work for people and planet.
In this session, we looked at a case study of how permaculture is used in the city of Leeds. In the north of England, Leeds has around 800,000 residents with many food initiatives working to tackle social, environmental and health challenges.
Watch Andy, Sonja, Pete and Luke to find out how permaculture is making change at the local level and how this is starting to influence the city's strategy for a better food future. Learn about their successes and challenges and the different initiatives that are part of the wider process of change.
Meet the Speakers
Andy Goldring
Andy moved to Leeds in 1989, and since learning about permaculture in 1992, has been involved in a range of local projects and initiatives, and in running annual design courses. He was a member of the Feed Leeds initiative and since 2020, has been involved in delivering the Climate Action Leeds project, which is an ambitious £2.5 Million project aiming for a 'Zero Carbon, Nature Friendly, Socially Just Leeds' by the 2030's. This project is bringing together many different stakeholders and sustainability strands and giving fresh energy to food and nature initiatives across the city. Andy is also Chief Executive of the Permaculture Association (Britain).
Luke Justice
Luke grew up in one of the UK's pioneering ecological housing projects - the Hockerton Project - and has had a longstanding passion for sustainable living and action. He has been leading the development of a new Community Supported Agriculture/urban farming scheme at Meanwood Valley Urban Farm on the edge of the city centre in Leeds. Luke also works with Andy on the Leeds Permaculture Course.
Sonja Woodcock
Sonja's passion is food and its health, social, economic and environmental benefits. She is interested in how we as individuals and, as a society, are influenced by the food system. Sonja has an MSc in Food Policy and has been actively working towards developing a sustainable food strategy for Leeds. Her current post is funded by Sustainable Food Cities and the University of Leeds N8 Agrifood group and hosted by Zest Leeds. Sonja is heavily involved in a number of important and interesting food-based activities in Leeds, in particular, the Leeds Food Partnership, Sonja and Foodwise are the Food partner lead for the Climate Action Leeds project.
Pete Tatham
Pete did a permaculture course in 2010 and joined Hyde Park Source in 2013 where they are improving health and wellbeing through improving the environment through community gardening, design and build and outdoor education. Pete keeps a million plates spinning and is still as cool as a cucumber! He leads on developing new projects and finding suitable funding, developing the Hyde Park Source strategy and supporting the staff team. Pete is also the Nature partner lead for the Climate Action Leeds project and a brilliant DJ!



Related Links