| | | | | | | | | | | | | | | | | | | | | | | | | | | | |
| --- | --- | --- | --- | --- | --- | --- | --- | --- | --- | --- | --- | --- | --- | --- | --- | --- | --- | --- | --- | --- | --- | --- | --- | --- | --- | --- | --- |
| | | | | | | | | | | | | | | | | | | | | | | | | | | | |
Farmer in north-west Wales
European Permaculture Community
FORUM 2023 March 1 - 5 >> Let's talk about Food!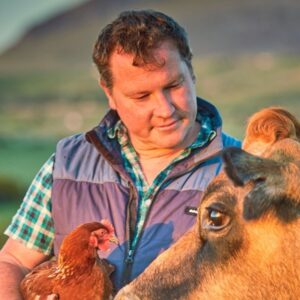 Matt runs Henbant farm in north-west Wales, with his family. After a career in award winning TV production, Matt left for a simpler life in the country. Henbant is showing that you can buy a small farm on a mortgage and make it work.
Using holistic management methods (Savory, 2010) we have developed a set of holistic contexts for us as a family and for the farm.
We have time to enjoy each other, not get stressed and stay healthy

We have a abundant and productive farm with healthy soil, ecosystem and human community.

We have a stable, sufficient income

We live purposeful lives we can be proud of and we make the world a better place

We have a diversity of visitors to the farm and the farm becomes valued by them in their lives
Du möchtest dauerhaft Zugang zu allen Experten-Interviews?
Sichere Dir doch schon jetzt das  European Permaculture Community-Komplettpaket.
Mit exklusivem Bonusmaterial der ExpertInnen – JETZT zum Aktionspreis!